Goh, Eng Lim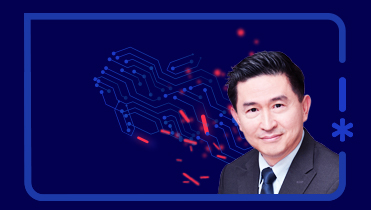 Dr. Eng Lim Goh is senior vice president and chief technology officer for artificial intelligence at Hewlett Packard Enterprise. Prior to this, he was CTO for majority of his 27 years at Silicon Graphics, now part of HPE. His research interests include humanity's differentiation as we progress from analytics to inductive machine learning, deductive reasoning, and specific to general artificial intelligence. He continues his studies in human perception for virtual and augmented reality.
As principal investigator of the experiment aboard the International Space Station to operate autonomous supercomputers on long duration space travel, Dr. Goh was awarded NASA's Exceptional Technology Achievement Medal. His other work includes co-inventing blockchain-based swarm learning applications, which also landed on the cover of Nature; overseeing deployment of AI to Formula 1 racing; industrial application of technologies behind a champion poker bot; co-designing the systems architecture for simulating a biologically detailed mammalian brain; and predicting predisposition to vaccine side effects by machine learning of gene expression data. He has ten U.S. patents, with three others pending.
A Singapore Visionary Award recipient, Dr. Goh is a Scientific Advisory Board member of the National Research Foundation, Prime Minister's Office. In 2005, InfoWorld named him one of the World's 25 Most Influential CTOs. He was included twice in the HPCwire list of "People to Watch" and received the HPC Community Recognition Award. His work for Stephen Hawking included a symposium invitation to introduce the discoveries of Professor Saul Perlmutter, winner of the 2011 Nobel Prize in Physics.
A Shell Cambridge University Scholar, Dr. Goh completed his PhD research and dissertation on parallel architectures and computer graphics, and holds a first-class honors degree in mechanical engineering from Birmingham University in the U.K.